Holidays are fast approaching! Are your gifts ready? Since the pandemic began, online shopping has become more and more popular for everyone. Unlike before, where we used to make our list, patiently drop from store after store to shop gifts personally, online shopping has made the work so much easier.
However, everything has changed as even shopping online is not as easy-peasy as before. Due to the numerous and somewhat confusing options, online shopping is not as smooth as it seems. Even so, shopping online is still our safest option since the virus is still looming out there. It is still our best savior to shop our gifts and personal things.
Today, more shops, retailers, and brands have become affiliated with online shopping. It gives ease to their customers, especially now that holidays are coming. However, shopping online becomes more challenging due to excessive spending, and you might end up forgetting to compare prices online as it is already a time-consuming task.
However, why settle for too lavish items if you can get the best price by comparing prices with the help of a shopping engine called Compare King? There's no need to spend long hours and pay for expensive carts. Compare King is here to rescue you and save your hard-earned money by giving you amazing deals, coupons, rewards, promo codes, and more!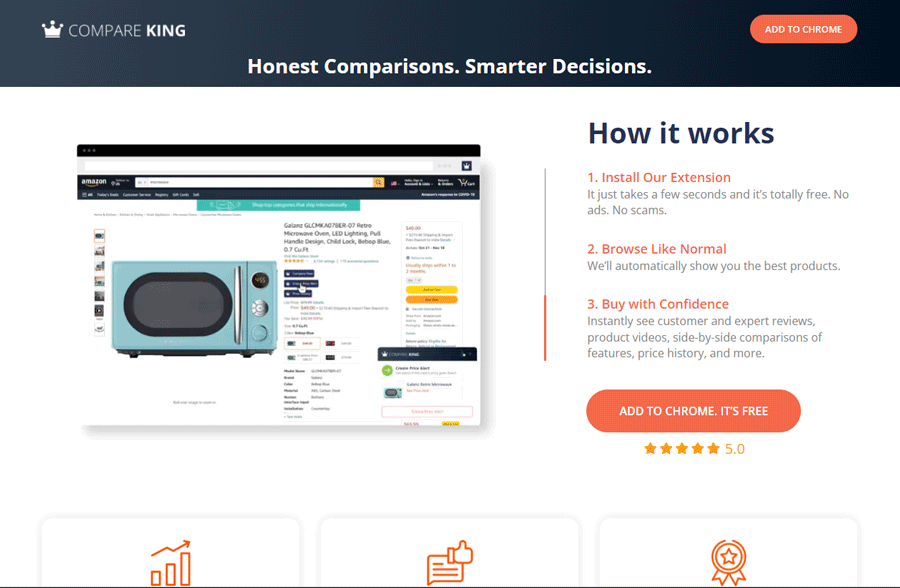 Look For the Best Prices, Rewards & Cash-backs with Compare King
Compare King is an excellent shopping engine extension that sets in a single goal. That is, to compare everything; from your personal essentials to gifts for your family members. It is a free web browser extension, with no ads and scams included.
Compare King is here to show the best products. In this extension, you just need to browse your preferred stuff on your browser. From there, you can quickly check customer reviews, comparisons, price histories, and more. The usual things that are relatively significant in your decision-making while shopping.
Compare King is a comparison shopping extension that is designed to give you a full and honest price comparison. It will help you find the best possible products with great reviews and, at the same time, deals that will land you the right purchasing decision. Here are the features you will surely enjoy upon using this shopping engine.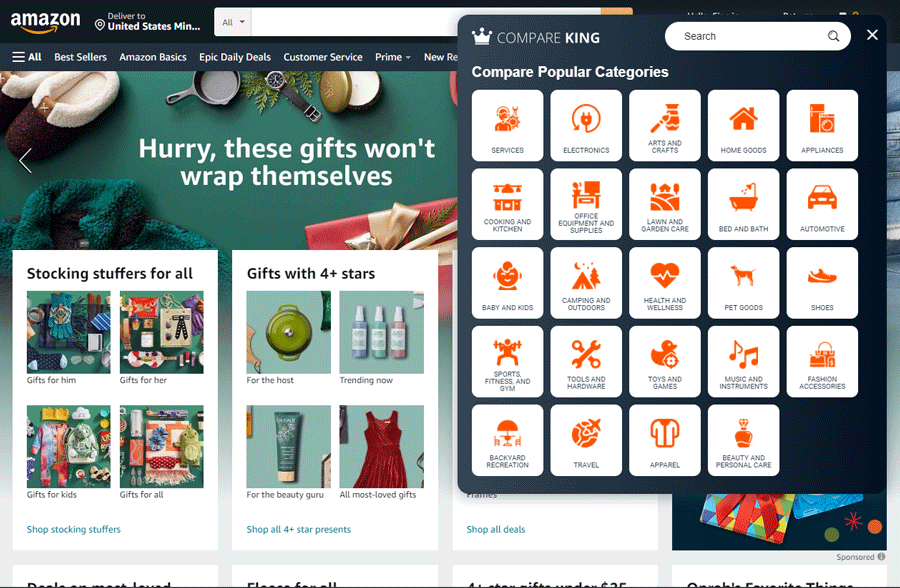 Accessible & Accurate Price Comparison
In Compare Kings, you will be able to access a comprehensive scan where you can access various prices of the product you wish to buy. Also, you can check out useful blogs that will help you figure out the best product that suits not only your budget but also your expectations.
Plan Your Shopping With Price Drop Watchlist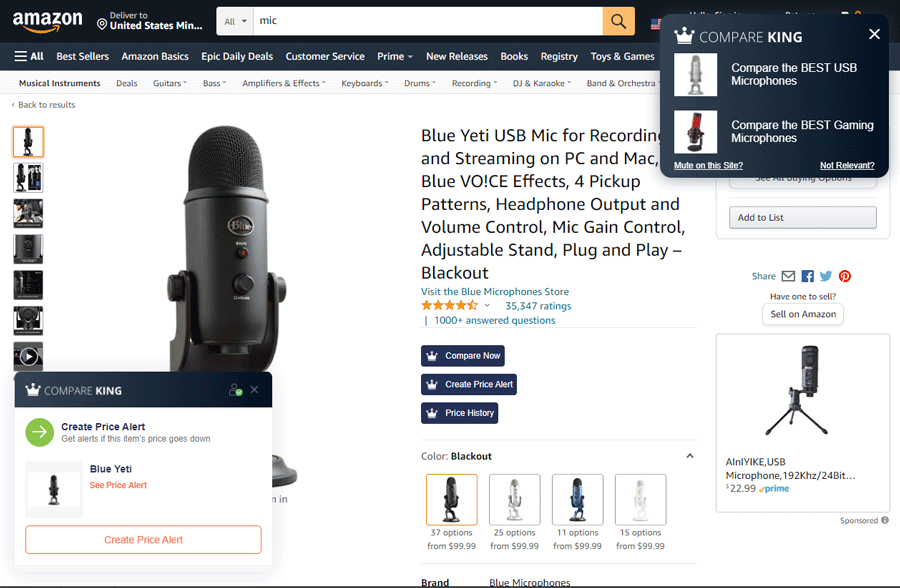 Another amazing feature of Compare King is that it offers the newest updates and details in online shopping. Here, there's no need to check store after store or page after page just to see price drops. All you have to do is sit back, relax and let the shopping engine do the work.
With Compare Kings, you will never miss every price deal not only to your favorite store but to other shops as well. The app will notify you once a price drop is detected, so there is no need to check each store every single day. This shopping engine will immediately find the best deals for you!
Enjoy & Save More with Daily Online Deals
In Compare King, you don't only compare rates and find the best prices. Here, your savings also matters. The extension offers access to up-to-date deals from different stores. There are two tabs to check, the "Featured Offers" and the "Trending Deals". You can witness updated daily online deals where you can get a chance to earn shopping credits using these features.
Smart Wisely With Shopping Credits
Aside from comparing prices, Compare King extension also enables you to earn shopping credits each time you shop online. Upon reaching the shop's site, you need to activate an icon next to the retailer's web address. Once activated, you will start getting shopping credits.
Additionally, you will be able to view your available credits and redeem them. These shopping credits can be used as gift cards which you can use in partner stores like eBay, Amazon, Walmart, and more. Check to see if you've got enough credits to use for shopping.
Save More Money with Valid Automated Discount Coupons & Codes
In addition to price comparison, Compare King also allows online shoppers to get discounts and save more money through coupons. This shopping engine will deliver the most accessible coupons ready to use. This will save you from the frustrations of getting expired ones.
To enjoy these coupons, Compare King will add the available coupon on your preferred item to discount its price. With this feature, you can save time looking for valid coupons while enjoying amazing discounts easily and hassle-free.
Experience Hassle-Free Shopping through Product & Promo Search
Lastly, Compare Kings offers the utmost convenience to online shoppers by searching available products and promos available for you. You only need to type the item you are looking for and quickly access the retail stores where the product is available.
Along with the products, you can also see the available details to further help you compare prices and find the best promos. So, you will have all the best information needed to get the best deals and find the right product that will suit your needs and budget.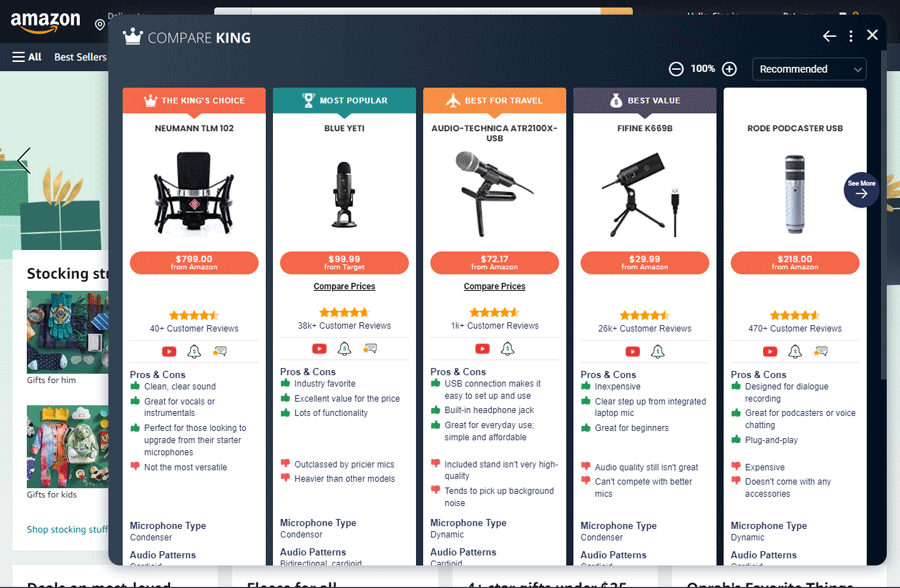 Why Choose Compare King as Your Shopping Buddy?
Compare King is not only to compare prices online, it is also a useful shopping extension where you can access the best prices, making your shopping experience more convenient.
With its excellent features, shopping can be extra fun and easy. There's no need to take long hours queuing from store after store just to see what fits your preference, time, and budget. If you want to get amazing deals, promos, cash backs, discounts, and more, Compare King is definitely the best shopping extension for you!