One of the usual resolutions that many people would want to achieve as a new year begins is improving their finances. This could usually be lowering their debts, improving savings, achieving financial, and so on. Not many, though, can achieve their financial goals for various reasons. But did you know that banks can help you achieve your financial goals for the year, especially if you plan on opening a checking account?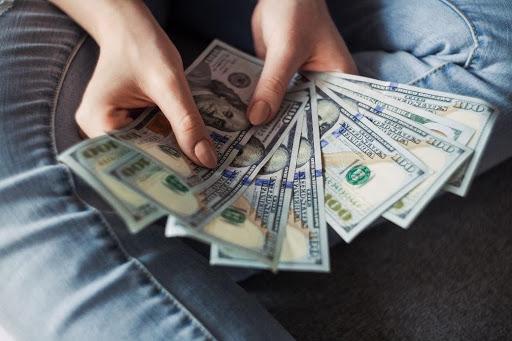 That's right and this is because banks usually offer promos and bonuses at the start of the year. It's a way to attract new users to open an account with them like a checking account. And with 2021 still in its first month, there are plenty of different promos and bonuses that you can take advantage of when you want to open your checking account. But with plenty of options available, which one would be the best bank to start an account with?
To help you decide, this article will provide a list of the banks that offer the best promos. This article will be listing down the 5 best banks and the kind of promo they are offering for 2021.
HSBC Premier Checking Account
One of the best promos that you can find out there is being offered by HSBC. The bank is offering a $450 bonus as a welcome deposit for opening a Premier Checking account with them. To receive the bonus, you just have to complete qualifying activities after you have opened your account. First, you have to open your Premier Checking account online before March 21, 2021.
After that, you will have to make a monthly Qualifying Direct Deposit of at least $5,000 from a 3rd-party for 3 consecutive calendar months. Once you've completed the deposit, the $450 will be deposited to your checking account within 8 weeks after completing all required activities. Remember that the account is subject to a maintenance fee if the minimum requirements are not maintained.
With the huge amount required, this checking account is likely better suited more for self-employed individuals and small business owners. It's also a good idea for retired people who are receiving pensions already.
Chase Total Checking Account
Another good checking account that you can open an account with is Chase Total Checking. The bonus that the bank offers will be $200 and you will get it if you open a Chase Total Checking account by April 14, 2021. You also have to do qualifying activities to receive the Checking coupon. You just have to make an electronic deposit of a paycheck, pension, or government benefits within 90 days of coupon enrollment.
The bonus does not apply to existing Chase checking account holders. People who had their accounts closed within 90 days or closed because of negative balance within the last 3 years are also not qualified to get the bonus. This is a great checking account to open for any individual, considering there isn't a minimum deposit required.
Bank of America Advantage Banking
Bank of America is another bank that is offering a good promo if you open a checking account with them. Opening an Advantage Banking account can get you $100. To do this, you just have to open an account online by June 30, 2021. Then you have to set up and receive 2 qualifying direct deposits of $250 or more within 90 days of opening the account.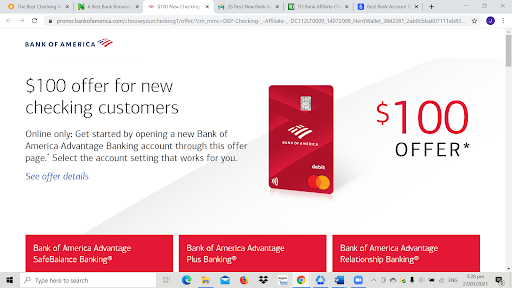 This promo is only open to people who don't have a Bank of America checking account yet. Though the bonus is small, the minimum deposit requirement is also small. This means that this account is another good option for any individual looking to open a new checking account.
Citibank Account Package
This is another high reward bonus but also has a high minimum deposit requirement. Citibank is offering a $300 bonus for new account holders who opened a Citibank Account Package. You just have to open an account between January 6, 2021, and April 1, 2021. Within 30 days of opening the account, you have to make $15,000 in New-to-Citibank funds between the new checking and savings account.
You also have to make sure to maintain a $15,000 balance between the savings and checking account for 60 consecutive calendar days. Once complete, the bonus will be deposited into your account. This promo is available nationwide, except for the following states: WA, TX, MA, AZ, GA, MI, PA, NC, OR, MN, CT, and DC. It's an account suited for self-employed, small business owners, or individuals who are receiving a pension.
TD Bank Beyond Checking
Last, but certainly not least, a promo that you can take advantage of comes from TD Bank. The bank's Beyond Checking offers a $300 bonus to new account holders who complete the qualifying offer. To get this offer, you just need to apply for an account online and receive a direct deposit of more than $2,500 within 60 days of opening.
The offer is available to U.S. residents only. TD Bank's Beyond Checking usually has a $25 maintenance fee, which they waive if there's a monthly direct deposit of $5,000 or more, you maintain a daily balance of $2,500, or have a combined $25,000 balance across all eligible TD accounts. The promo is available to residents who live in the following states: CT, DE, DC, FL, ME, MD, MA, NH, NJ, NY, NC, PA, RI, SC, VT, VA.