Art enthusiasts and sculpture aficionados often find themselves drawn to museums, where they can admire exquisite pieces. However, they might be missing out on a hidden gem in their own community – the local cemetery. It's here that one can find an unexpected source of art and craftsmanship, dedicated to honoring the departed. While some gravestones are straightforward, displaying names, dates, and modest imagery, others have a distinctive purpose in capturing attention, birthing some of the most beautiful headstones in the world.
As one strolls through these burial grounds, they might encounter numerous opulent memorials, many of which are the creative handiwork of gifted artists, architects, and sculptors, serving to safeguard a family's legacy. In the following sections, we'll take a closer look at our hand picked selections for the top most magnificent and unique tombstone designs around the globe.
Beautiful and Unique Tombstones of the Departed
Whether you're searching for a fancy gravestone or a memorial with deep history, below are some of the most popular you should visit if you have the chance:
The Angel of Death Victorious
Famously referred to as the Haserot Angel, this eerie apparition graces Lake View Cemetery in Cleveland, Ohio, USA. Winged angels served as a prevalent symbol of mortality during the 19th and early 20th centuries, and the choice of this imagery isn't unique to the Haserot family's commemorative monument. What distinguishes this sculpture, however, is its exceptional craftsmanship and the way time has weathered its bronze materials.
Over the years, the bronze has undergone a transformative oxidation process, rendering it a delicate, powdery green. Yet, the angel's visage appears as if it is shedding somber ebony tears due to the influence of rain and snow. This depiction of a foreboding, weeping angel standing sentinel over a sepulcher has etched the Haserot Angel indelibly into the minds of all who chance upon it. So much so, in fact, that a considerable number of individuals purposefully explore the expansive 280-acre cemetery solely in pursuit of this captivating sentinel.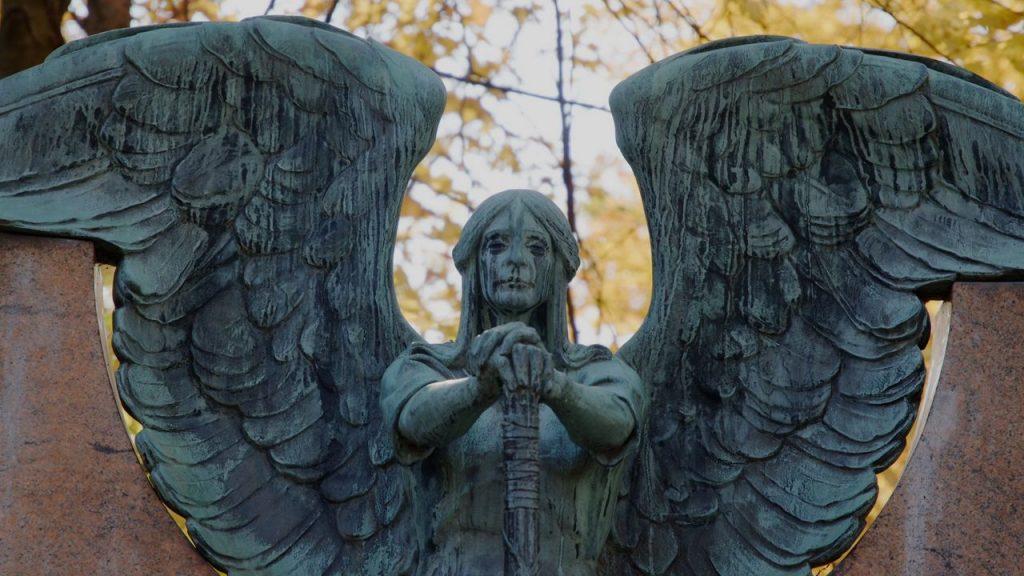 John Paul Jones' Crypt
John Paul Jones, renowned as the progenitor of the American Navy and celebrated for his resounding declaration, "I have not yet begun to fight!" in response to a plea for surrender during a pivotal Revolutionary War encounter, possesses a lesser-known chapter in his posthumous journey. Astonishingly, for more than a century following his passing, the whereabouts of Jones' remains remained shrouded in mystery. It wasn't until the year 1905 that the esteemed American Ambassador to France succeeded in rediscovering Jones' final resting place and orchestrating the repatriation of his remains to the United States.
In the present day, John Paul Jones finds his eternal repose within a grandiose sarcophagus situated beneath the hallowed chapel of the United States Naval Academy. This remarkable casket is adorned with meticulously sculpted barnacles and upheld by dignified bronze dolphins. Fashioned from a striking black and white marble, the sarcophagus exudes an appearance as if it has weathered countless ages beneath the relentless waves, a depiction not far from the historical truth.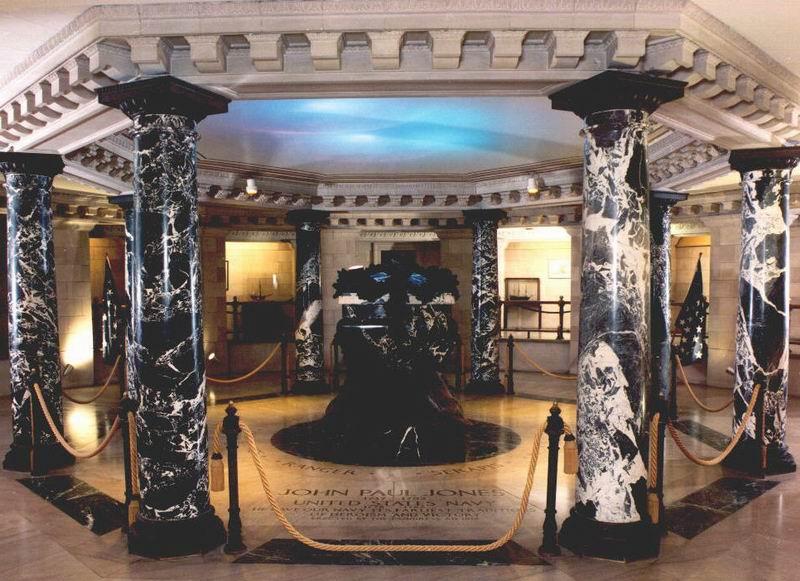 Rudolf Nureyev's Oriental Rug
One of the world's most breathtaking mosaic artworks doesn't reside within the walls of a museum or an ancient edifice; rather, it quietly resides in the orthodox cemetery of Sainte-Genevieve-des-Bois. Renowned ballet virtuoso Rudolf Nureyev possessed an insatiable passion for collecting intricate rugs, carpets, and tapestries, with a particular affection for Oriental Cilium rugs. Years following his demise, a remarkable monument was conceived by the collaborative efforts of set designer Ezio Frigerio, architect Stefano Pace, and mosaic artist Francesca Fabbri.
This sculptural masterpiece takes the form of a rug elegantly draping over a symbolic coffin, meticulously capturing the intricacies of folds and textures to impart an authentic appearance. The stone rug, then, becomes a canvas for a vibrant array of mosaic tiles, elevating it to become one of the world's most exceptional memorial markers. For connoisseurs of art, a visit to this cemetery to pay homage to Nureyev and his resplendent headstone is an endeavor that promises to leave a lasting impression.
Davis Memorial
The Davis family is a family of successful Kansas farmers. Sarah Davis passed away in 1930, a simple headstone marked her peaceful life. Then, John replaced it with a marble statue. He added 11 more statues in the next ten years, showing different versions of Sarah and himself in chairs. They were placed randomly, facing all directions.
The cost was very high, causing distress in Hiawatha due to the Great Depression. People thought John was either wasting his fortune to keep it from Sarah's family, who disliked him, or he was just an eccentric with a broken heart.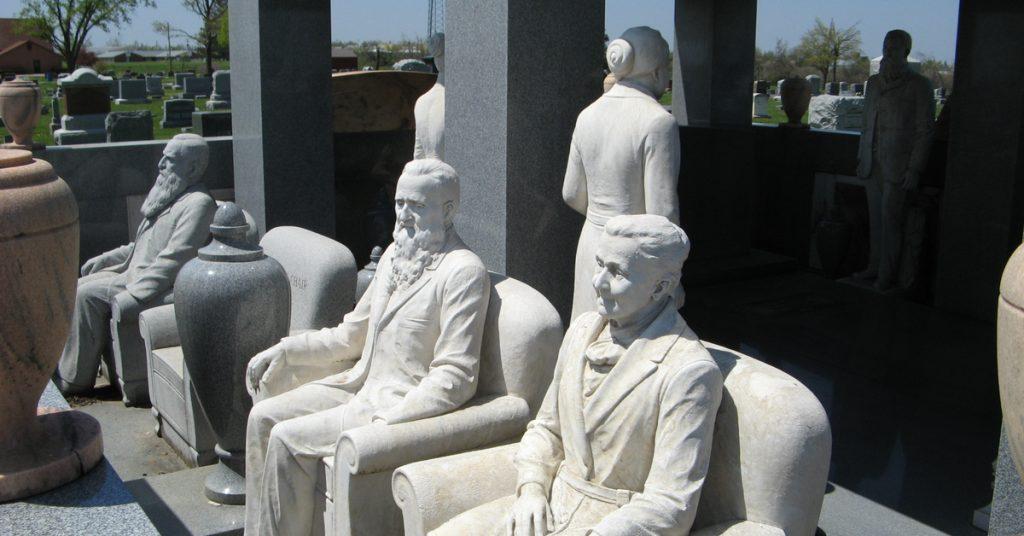 Clasped Hands
In Roermond, Netherlands, you'll discover a touching pair of memorials. They belong to Colonel Jacobus van Gorcum and Lady Josephina van Aefferden. Lady van Aefferden, a Catholic aristocrat, caused a stir in 1842 when she married Protestant Colonel van Gorcum.
Sadly, Colonel van Gorcum passed away in 1880 and was laid to rest in the strict Protestant part of the local cemetery. Knowing she would be buried in the Catholic section, Lady van Aefferden chose not to rest in her family's plot. Instead, she opted for a grave near the wall between the two sections.
With her headstone close to her husband's, Josephina arranged for remarkable toppers for both markers. These toppers depicted hands clasping each other over the wall, ensuring their eternal connection, even when cultural norms tried to keep them apart.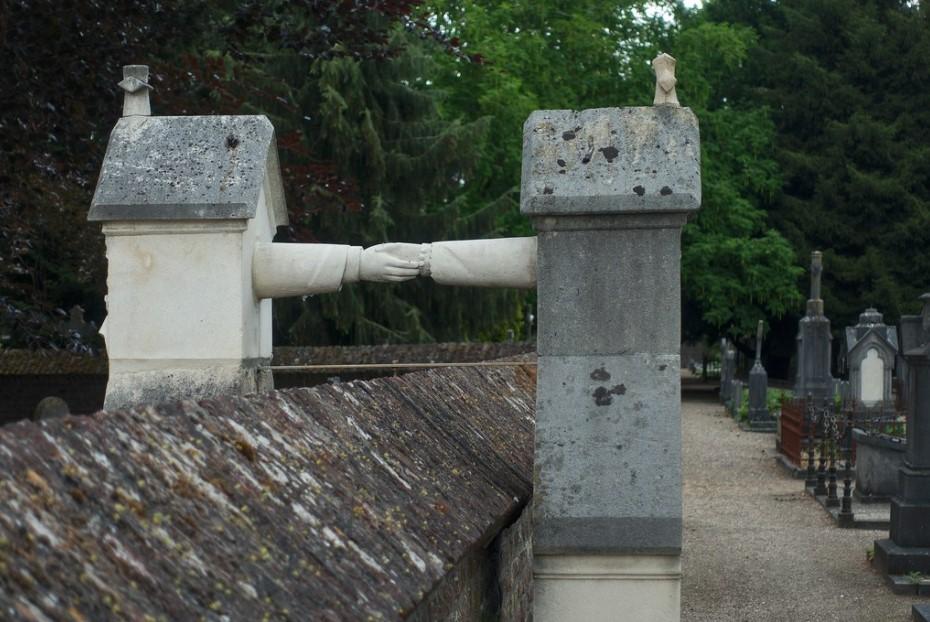 Jules Verne's Tomb
Jules Verne, the pioneer of science fiction, has a gravestone that suits his genre. Two years after his death, a sculpture titled "Vers l'Immortalité et l'Eternelle Jeunesse" ("Towards Immortality and Eternal Youth") was placed on his grave. This sculpture, designed by artist Albert Roze, utilized Jules Verne's actual death mask. It portrays the shrouded figure of Jules Verne breaking through his own tombstone and emerging from the grave.
The statue has become so iconic that it appeared in the masthead of the first issue of the influential science fiction magazine Amazing Stories, which debuted in 1926. For many years, this drawing of his tombstone remained a part of the magazine's header.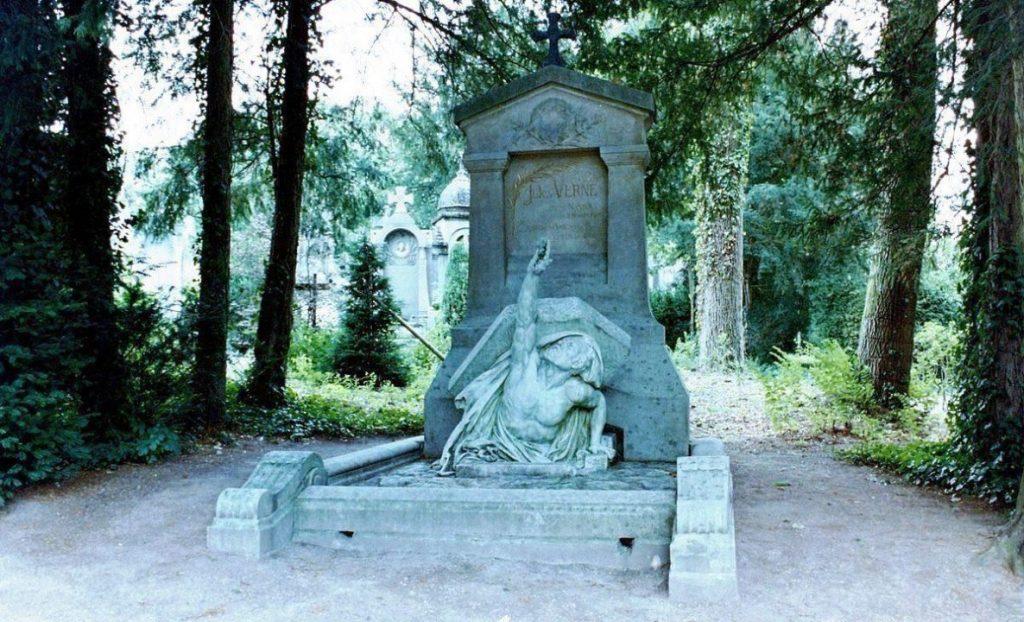 Famous Headstones that Will Leave a Mark
Discover a world of awe-inspiring and unconventional memorials that transcend the boundaries of traditional cemeteries. These remarkable tombstones and sculptures, each with its own unique story, offer a compelling testament to human creativity and emotion. From the haunting Haserot Angel to the captivating mosaic rug of Rudolf Nureyev, these artistic tributes invite you to explore the unexpected beauty that lies within your local cemetery.
Don't miss the chance to pay homage to these exceptional works of art and the lives they commemorate. Journey through history, art, and emotion as you visit these extraordinary grave sites, and let them inspire you to appreciate the unconventional artistry that surrounds us, even in the most unexpected places.