Are you looking for the perfect place to relax for a while? Then, check out some clear water beaches in the United States now!
Have you ever been to a beach with crystal-clear water? It's more than just a place to relax – you can see through the water and observe all sorts of marine life swimming around. It makes swimming and lounging on the beach much more enjoyable and exciting!
With clear water beaches, jumping in the water is like a new adventure. The water is refreshing and free of worries like stepping on rocks or encountering dangerous marine life like sharks.
Unfortunately, not all beaches have clear water. Some have murky water with a layer of film or foam on top, making it unappealing. And then there are those beaches that are so dirty and polluted that they look like the result of a city's waste runoff – yuck!
But don't worry; we've got you covered. We've compiled a list of the top 10 clear water beaches in the United States that will take your breath away. So, pack your bags and get ready to enjoy some of the most stunning beaches in the United States!
10 Clear Water Beaches You Must Check Out Now
Here are the beaches in the United States with clear water, and they are all worth visiting any time of the year;
1. Miami Beach
Landing in the first spot on the list of best clear water beaches in the United States is the breathtaking Miami Beach. Miami Beach is not just a beach but an entire island along the east coast of Miami, with a long stretch of beautiful coastline. While it's divided into different segments, like South Beach and Mid Beach, it's technically a continuous beach.
Florida is well-known for its stunning beaches with clear water and white sand, and Miami Beach is one of the best. There are quieter locations for people who want to relax and unwind despite the area's reputation for its chaotic nightlife and beach parties.
If you're a foodie or love going to beach clubs and bars, you'll find a great selection right on the beach. And if shopping is your thing, Miami Beach has got you covered, too – treat yourself to a new summer outfit!
In the early evening, visit South Pointe Park for a spectacular sunset. It's the southernmost point of Miami Beach and offers breathtaking views. Plus, plenty of public restrooms and showers are available for everyone to use.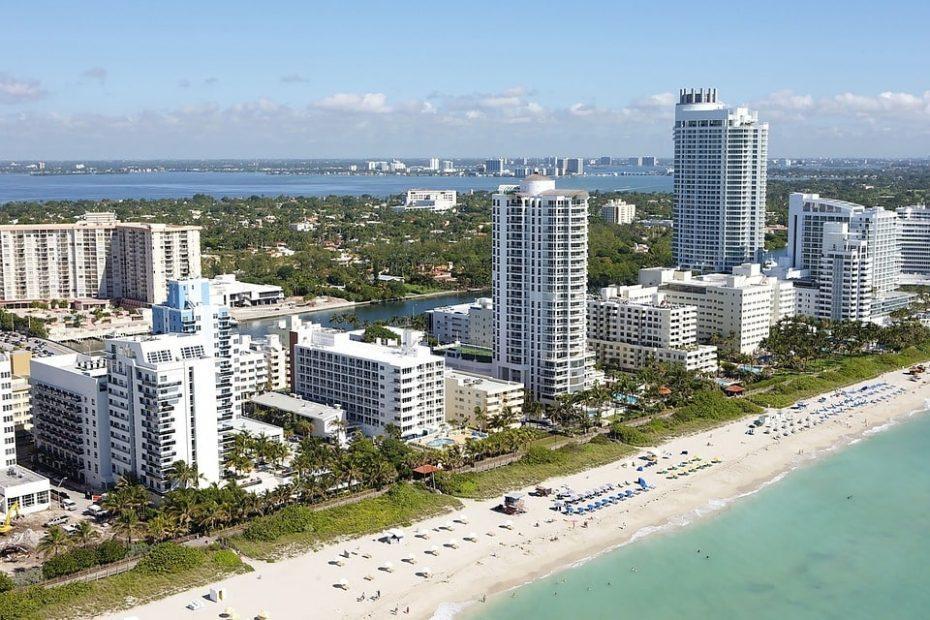 2. Lanikai Beach
Lanikai Beach is considered one of the top for its crystal clear waters and gorgeous palm tree-lined, white sand beach. People love to swim, sunbathe, and go snorkeling here.
One of the best things to do at Lanikai Beach is a dip in the clear turquoise water. It's an excellent place for families with young children to swim because of the calm waves and gradual slope.
For those who love snorkeling, Lanikai Beach is perfect. The water is home to various tropical fish and sea turtles, making it an excellent spot for novice and experienced snorkelers to explore.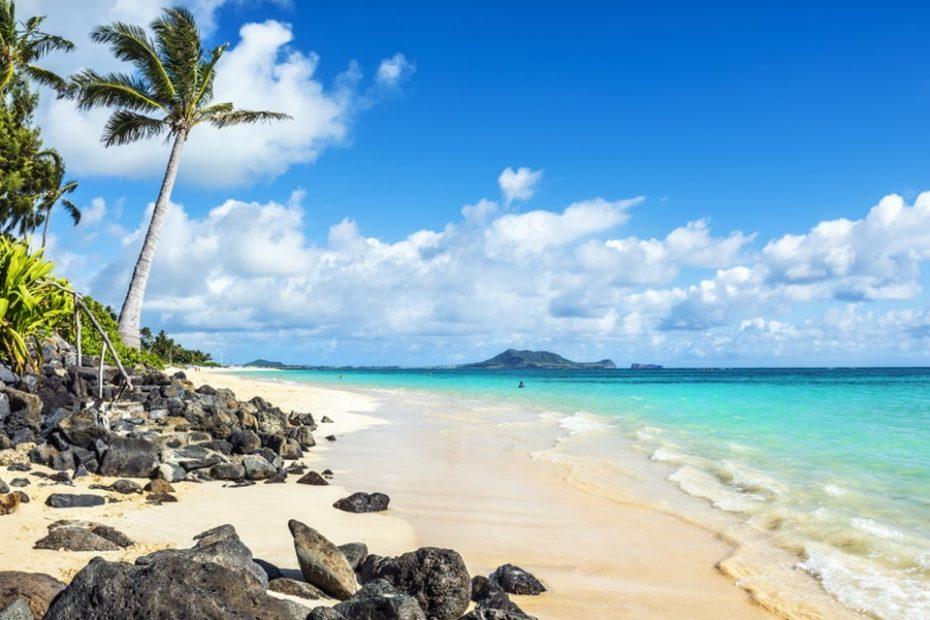 3. Waimea Bay Beach Park
Joining the list of best clear water beaches in the United States is Waimea Bay Beach Park. Hawaii is well known for its stunning beaches and clean ocean water, and Waimea Bay Beach Park stands out. Big-wave surfers particularly love this spot, especially during winter when the waves can reach up to 30 feet high.
But if you're not ready to tackle those monster waves, don't worry – visit during the summer when the water is calmer and more suitable for swimming.
One thing that sets Waimea Bay Beach apart is what lies beneath the clear water. A couple of massive rocks on the seafloor give you a sense of the ocean's vastness and the smallness of humans in comparison. Snorkeling here is an incredible experience; you'll see colorful fish and sea turtles that call this area home.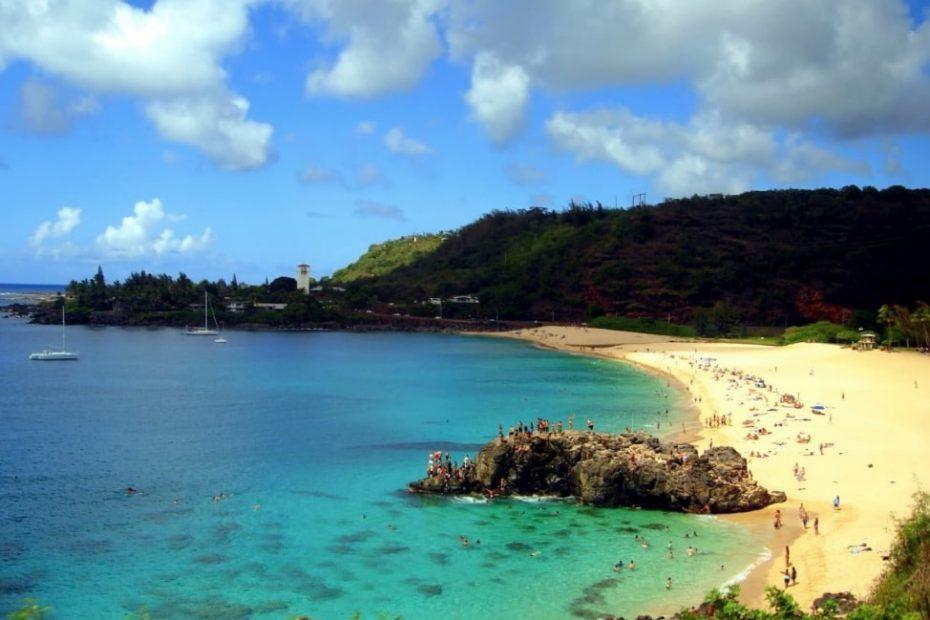 4. Carmel Beach
Carmel Beach, situated in the picturesque community of Carmel-by-the-Sea on the Central California Coast, is a popular choice for tourists looking for a tranquil retreat. Visitors can easily spend a half-day lounging in the sun and admiring the breathtaking surroundings at this one of California's most beautiful white sand beaches, which has a crescent shape.
Carmel Beach deserves to be one of the best clear water beaches in the United States. It is a spot where you can stroll along the sandy shore and watch for shorebirds and whales during the season. The beach is also known for being very dog-friendly, so bring your furry friend along for some off-leash fun if they respond well to voice commands.
In addition to being a great place to relax, Carmel Beach is also an excellent spot for photography, with the ancient cypress trees framing the water. If the weather is good, stick around for a stunning sunset. Beach volleyball and surfing are two of the most popular sports.
Entry to the beach is free, and restrooms and parking are available but arrive early as parking can fill up quickly. Bring a blanket and a picnic from Carmel Village, or grab some Italian food at Little Napoli.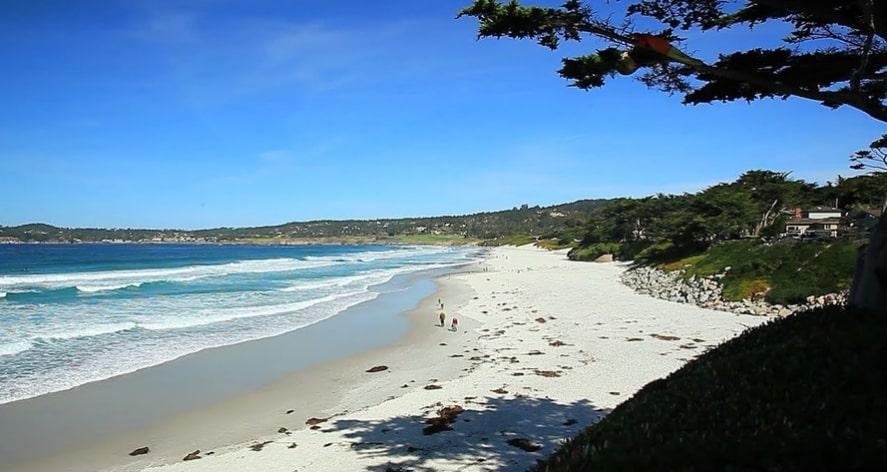 5. Wai'anapanapa Black Sand Beach
Another beach on the list of you shouldn't miss visiting is the Wai'anapanapa Black Sand Beach. It is located on the island of Maui and is a distinctive and stunning destination. Its dark, volcanic sand and crystal-clear blue waters make it an ideal spot for a day of sun, sand, and surf.
One of the best things to do at Wai'anapanapa Black Sand Beach if you want to unwind is to recline on the sand and enjoy the warm Hawaiian sun. Everyone has room, so pick a location to lay out your towel and enjoy the scenery. For beachgoers who prefer to stay active, the beach offers a range of water sports, including scuba diving and snorkeling.
A 120-acre state park surrounds Wai'anapanapa Black Sand Beach, allowing tourists to explore Hawaii's distinctive volcanic terrain. The park is home to some of the most breathtaking hikes in the US, such as the Sliding Sands Trail. While exploring here, you can take in all the scenic viewpoints, lava tubes, and freshwater caves.
Wai'anapanapa Black Sand Beach
6. Assateague Island
Assateague Island is a prime destination for those seeking a beach vacation and a break from the daily grind without needing air or sea travel. It is highly recommended if you are fond of beaches in the United States with clear water.
Stretching over 37 miles along the Atlantic Coast, this island boasts crystal-clear waters, recreational activities, wildlife, and stunning sandy beaches. What sets it apart from other Atlantic islands is the sight of wild horses roaming freely on the beach, which looks like it came straight out of a movie scene. Additionally, this is a popular spot for birding enthusiasts, with over 300 species to observe.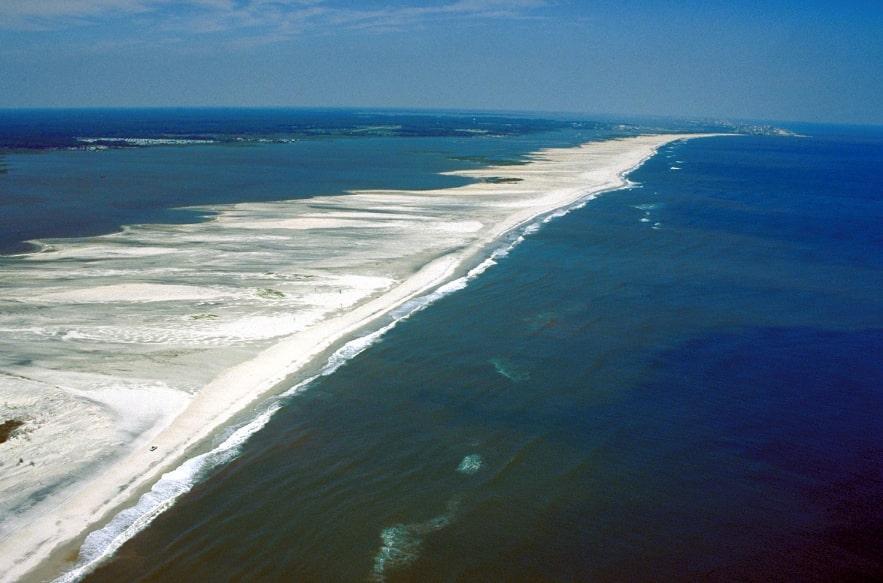 7. Clearwater Beach
Clearwater Beach, located on a barrier island, boasts one of the most beautiful 2.5-mile stretches of white sand beach in the US. A short bridge also connects it to another barrier island in the south, Sand Key. Thrill-seekers will enjoy a wide range of exciting water activities, including jet-skiing, parasailing, and stand-up paddleboarding while dolphin-sighting boat tours are ideal for those seeking a more laid-back experience.
If you are looking for perfect beaches in the United States with clear water, this one is for you. The turquoise waters of Clearwater Beach are shallow, calm, and crystal clear, making it an ideal destination for families with kids. Children will love the pirate-themed cruise ships on offer, as well as the many party buffet cruises available. To relax and sunbathe, rent a cabana or beach umbrella and chair from a local vendor, then settle down and enjoy the scenery.
Make sure to catch a sunset at Pier 60, which hosts a vibrant festival every night featuring street performers and artisans. Clearwater Beach also boasts a beachfront promenade, perfect for cycling and rollerblading, and is home to numerous restaurants, shops, and cafes.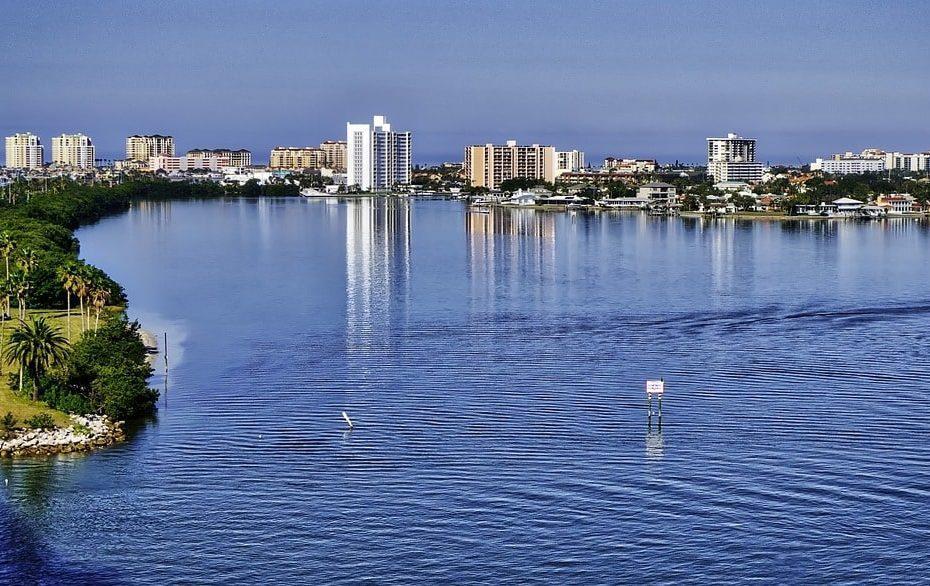 8. Kailua Beach
Another spot that deserves a spot in our list of best clear water beaches in United States that you must consider visiting by now is Kailua Beach. On Oahu's eastern shore is a magnificent stretch of white sand beach known as Kailua Beach. It is a haven for fans of windsurfing and kitesurfing thanks to its clean waters and steady trade winds.
Sunbathing and relaxing on the fine, white sand are popular activities at Kailua Beach. The beach is long and wide, so there is plenty of space to spread out and relax. Since the water is so clear, swimming and snorkeling are ideal activities. Additionally, tourists may see marine creatures like tropical fish, sea turtles, and dolphins swimming in the bay.
Thanks to the minor wave conditions and steady trade winds, Kailua Beach is an ideal location for windsurfing and kitesurfing. Local surf schools provide equipment rentals and lessons for visitors interested in learning these thrilling water sports.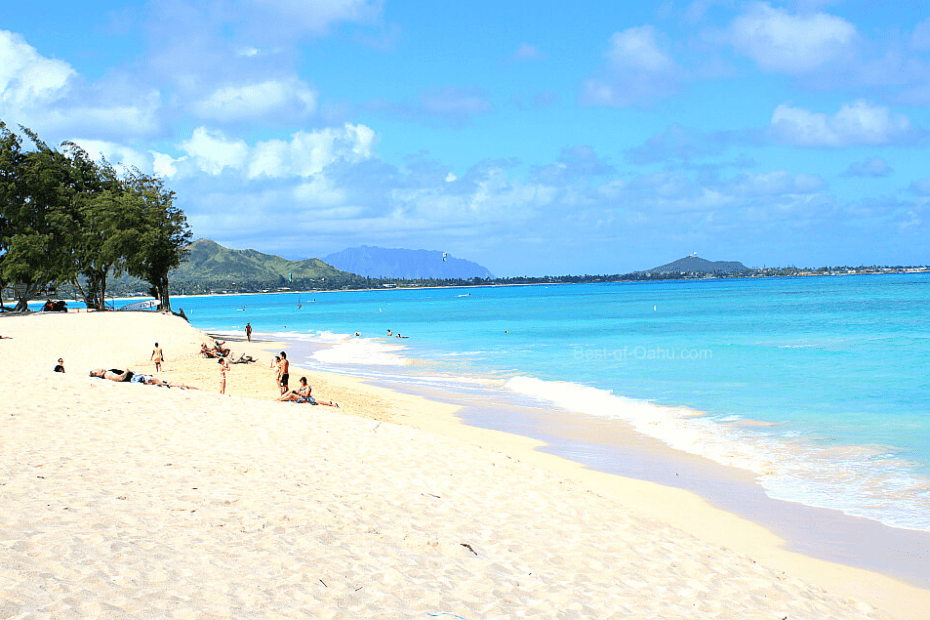 9. Cannon Beach
Located near Portland, Cannon Beach is a stunning destination for day trips and is renowned as one of the best beaches in the United States with clear water. This underrated gem boasts miles of sandy beaches, unique rock formations, and grass-lined cliffs, adding to its natural charm.
One of the best ways to enjoy Cannon Beach is by setting up a small picnic atop the cliffs, where you can take in the breathtaking views of the clear water and endless coastline. It's a one-of-a-kind and unforgettable experience that will make an impact.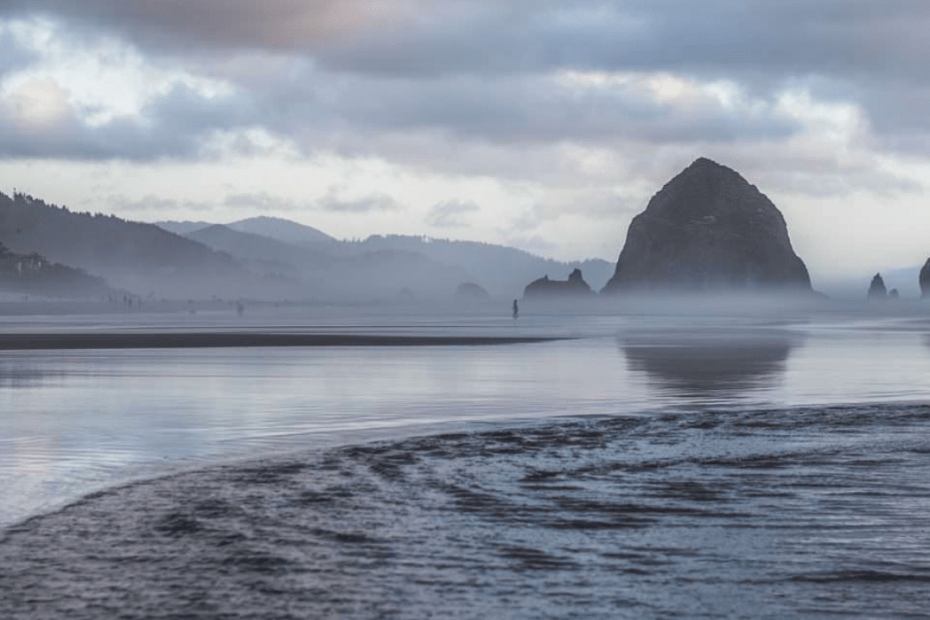 10. Coronado Beach
Wrapping our list of best clear water beaches in United States is Coronado Beach, situated just 6.7 miles from downtown San Diego on Coronado Island, which is ideal for beach lovers looking to bring their furry companions along.
Coronado Beach is a famous dog-friendly beach in San Diego, boasting a stunning white sand beach, small dunes, and clear blue waters. Watch your dog play in the water after releasing it from its leash.
There are plenty of family-friendly spots too, where kids can build sandcastles, and you can stroll along the 1.5-mile stretch of sand, swim, surf, enjoy beachcombing, and play beach volleyball.
The beach is conveniently located near the charming Hotel Del Coronado, which has its private beach and is perfect for a luxurious stay. Additionally, there are various options for food near the beach.
You can reach the beach by driving across the Coronado Bridge from San Diego or taking a ferry ride. Free parking is available along Ocean Boulevard, but it gets filled quickly during weekends and public holidays, so arriving early is best. The beach has public restrooms and shower facilities near the Lifeguard Tower, with no entrance fees.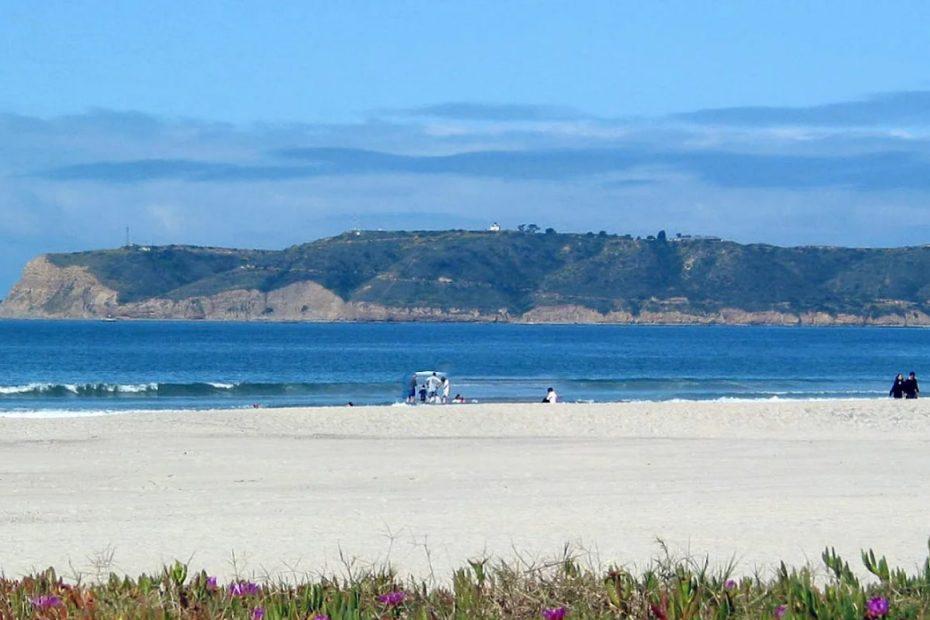 Pack Your Bags & Visit All Clear Water Beaches in United States!
Loads of clear-water beaches in the United States suit your next trip. Don't get stuck in just one beach, as this list has loads of them to anticipate. Both adventure seekers and those seeking relaxation will find these options suitable for families and travelers.
Image Credits: Pixabay